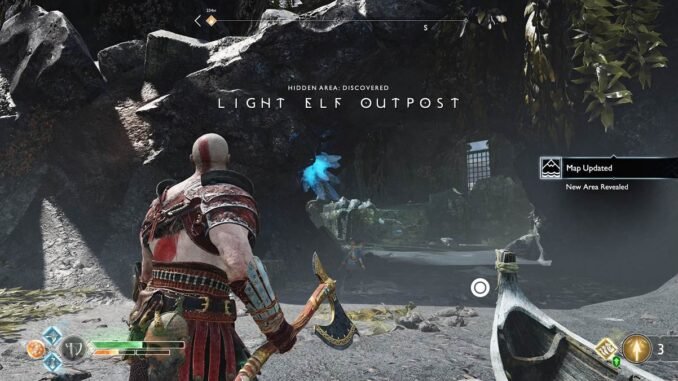 Light Elf Outpost est un lieu de God of War situé dans le lac des Neuf, et il abrite un coffre Nornir. Ce coffre particulier a des runes qui ressemblent à un « C », un « R » et un « n » dessus, et les joueurs devront détruire les sceaux associés afin d'ouvrir le conteneur. C'est un processus avec lequel les fans devraient être assez familiers à ce stade de God of War, bien que trouver les sceaux pertinents puisse encore être difficile. Voici comment déverrouiller le coffre Nornir dans l'avant-poste Light Elf de God Of War, ainsi que les emplacements des trois runes.
God of War: Emplacements des runes du coffre Nornir de l'avant-poste Light Elf
Les joueurs doivent commencer par se placer directement devant le coffre Nornir de l'avant-poste Light Elf. De cette position, vous devez regarder par-dessus l'espace qui se trouve juste à gauche de la poitrine et vous devez voir le sceau en forme de R sur le côté d'une falaise qui se trouve juste devant eux. Ce sceau peut être facilement détruit en lui lançant la hache Léviathan de Kratos, et c'est exactement ce que vous devez faire.
Une fois le premier sceau détruit, les joueurs de God of War doivent tourner à 90 degrés vers la droite, suivre le chemin qui passe devant la porte ouverte et sauter par-dessus un petit espace une fois qu'ils l'ont atteint. Vous devez tourner à gauche une fois que vous avez atteint l'autre côté de cet espace et se diriger vers les piliers de pierre qui émergent de l'eau devant vous. Le sceau en forme de n se trouve sur un rebord près du sommet du pilier de pierre le plus proche du bord de la passerelle.
Vous devez maintenant continuer vers l'avant, descendre la chaîne et entrer dans la petite alcôve à gauche en bas de la chaîne, qui contient un cristal que vous devez ramasser. Ce cristal doit être avancé et remonté sur la rampe lumineuse à droite, et vous vous retrouverez au niveau du coffre de Nornir lorsque vous atteindrez le sommet. Le protagoniste de God of War devrait maintenant tourner à 90 degrés vers sa droite et franchir la porte ouverte qui a été franchie en direction du sceau en forme de n.
Après avoir traversé cette porte, tourner à gauche, traverser le pont de lumière et rester à droite pour suivre un chemin vers le bas qui mène à un réceptacle pour le cristal. L'Atreus de God of War devrait tirer sur le cristal une fois qu'il a été placé dans le réceptacle pour activer un autre pont de lumière, et les fans devraient remonter le chemin en pente descendante et traverser ce pont. Vous devez maintenant simplement suivre le chemin vers l'avant jusqu'à ce qu'il se heurte à un autre point de chute de la chaîne, et le sceau en forme de C se trouve juste à gauche sur la face d'une falaise.
A lire également: