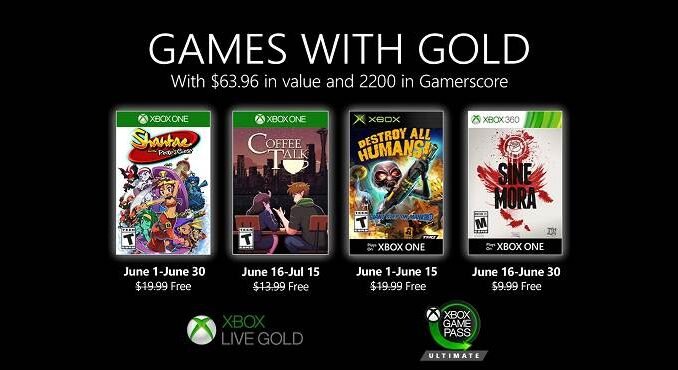 Alors qu'une annonce surprise cette semaine a révélé que Call of Duty WWII sortira aujourd'hui sur le PlayStation Store. Microsoft a annoncé que les Jeux Xbox gratuits Games With Gold pour Juin 2020 sont maintenant disponibles pour les abonnés Xbox Live Gold et Game Pass Ultimate.
Jeux Xbox gratuits Games With Gold pour Juin 2020
Deux Xbox One et deux Xbox 360 que vous pourrez Télécharger en Juin 2020. Les offres Games with Gold du mois de juin se tournent à nouveau vers le sport et la course et l'action- RPG.
Jeux gratuits Xbox One
Shantae and the Pirate's Curse: du 1er au 30 juin


Lancez-vous dans une aventure passionnante avec votre génie fouetteur de cheveux et de danse du ventre préféré. Après avoir perdu ses capacités magiques, Shantae doit faire équipe avec son ennemi juré néfaste, Risky Boots, afin de sauver Sequin Land. Tuez des monstres, combattez des boss épiques et obtenez de nouvelles armes dans une quête pour éliminer une malédiction maléfique de la terre et récupérer ses pouvoirs magiques dans le processus.



Coffee Talk: du 16 juin au 15 juillet


Prêtez l'oreille à vos clients en servant des boissons chaudes derrière un bar. En tant que propriétaire de barista dans ce jeu apaisant et relaxant, plongez-vous dans les histoires des habitants fantastiques de la ville où la progression est basée sur la variété des boissons que vous servez.



Jeux gratuits Xbox 360
Destroy All Humans!: du 1er au 15 juin


Découvrez l'autre côté d'une invasion extraterrestre en conquérant la Terre. Dans le cadre de l'armada Cryptosporidium 137, prenez le contrôle de toute l'humanité par voie terrestre ou aérienne en utilisant une variété d'armes extraterrestres.



Sine Mora: du 16 au 30 juin


Ce shoot'em up à l'ancienne se démarque en se concentrant sur la destruction massive et la manipulation du temps. Avec des scènes magnifiquement conçues et des modes Story et Arcade très difficiles, vous testerez vos capacités dans cette excellente entrée dans le genre shmup.



A lire également: