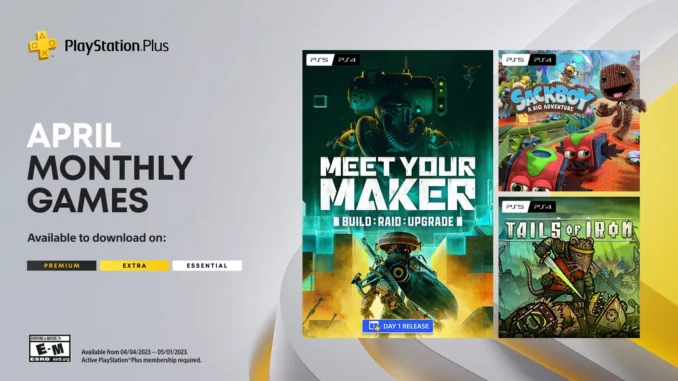 Depuis le lancement de ses nouvelles formules PS+, Sony l'éditeur ne ménage pas ses efforts pour rendre son service encore plus attractif. Sony va offrir 3 nouveaux jeux à ses abonnés PS+Essentiel, seront disponibles au téléchargement dès le 04 avril 2023 au 1er mai 2023. Voici la programmation pour PlayStation Plus Essentiel, Extra et Premium d'avril 2023. 
Ps Plus avril 2023 : les jeux PS+ PS5 et PS4 gratuits du mois
Les abonnés au PS Plus pourront télécharger gratuitement à partir du 04 avril 2023 les titres suivants:
Meet Your Maker (PS5, PS4)
Sackboy A Big Adventure (PS5 / PS4)
Tails of Iron (PS5 / PS4)
Dernière chance pour télécharger les jeux PlayStation Plus Essentiel pour mars 2023. La sélection inclut : Battlefield 2042 (PS4/PS5), CodeVein (PS4), Minecraft Dungeons (PS4).
Jeux Extra et Premium offerts en avril 2023
Voici les jeux ajoutés au PlayStation Plus Extra et Premium à partir du 21 mars 2023 :
Uncharted: Legacy of Thieves Collection
Tchia
Rainbow Six Extraction
Ghostwire: Tokyo
Life is Strange: True Colors
Immortals Fenyx Rising
Life is Strange 2
Dragon Ball Z: Kakarot
Street Fighter V: Championship Edition
Untitled Goose Game
Final Fantasy Type-0 HD
Rage 2
Neo: The World Ends With You
Haven
Les membres du PlayStation Plus Premium recevront également trois nouveaux jeux PlayStation classiques :
Ridge Racer Type 4 (PS1)
Ape Academy 2 (PSP)
Syphon Filter: Dark Mirror (PSP)
A lire également:
Topic: Fuites, prédictions et programmation pour PlayStation Plus avril 2023.